Members of the Staff
Navigation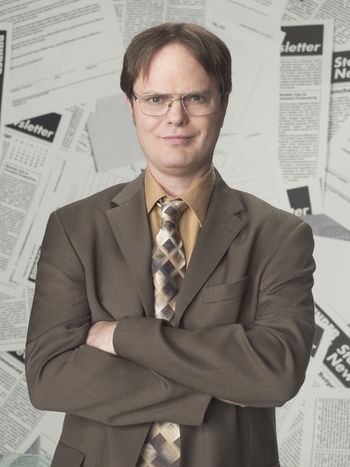 Dwight Kurt Schrute III is a 40 year old man who is the best salesman in the paper company, Dunder Mifflin. His grandparents owned a 60 acre beet farm which him and his cousin Mose inherited. His job is to be the assistant to the regional manager, Michael Scott. He works in Scranton, Pennsylvania and lives in his car and his office. He currently has no girlfriend but he is still trying to win back his ex, Angela. He is very intelegent and is prepared for almost anything. He has incredible hair and superior genes. He has never been sick, never missed a day of work, has only been late twice, and he can beat a computer in sales. Aside from his normal job was is a volunteer sheriff's deputy, but now he is security at Dunder Mifflin.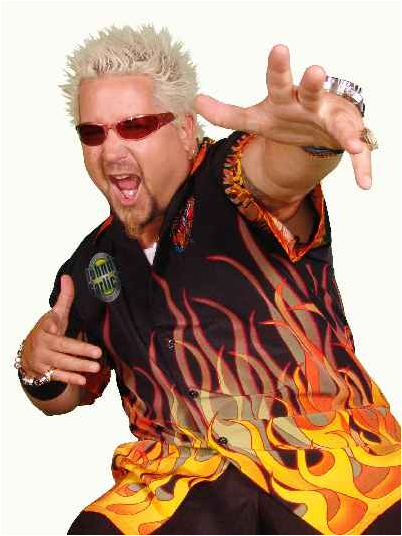 Guy Fieri is 49 years old and is a professional cook and TV star. He has many shows like Guy's Big Bite, Diners, Drive-Ins and Dives, Ultimate Recipe Showdown, Guy Off the Hook, Minute to Win It, Guy's Grocery Games, and "Guy's Family Road Trip". He also has multiple resturaunts like Johnny Garlic's (Two of them), Tex Wasabi's, Guy's American Kitchen and Bar, Guy's Burger Joint (Only on Carnival Cruise Lines), and Guy Fieri's Vegas Kitchen & Bar. He was born in Columbus, Ohio and raised in Ferndale, California. He married his wife, Lori, in 1995. He now has two children, Hunter and Ryder. Currently he is 5'10" and lives in Santa Rosa, California collecting classic American cars.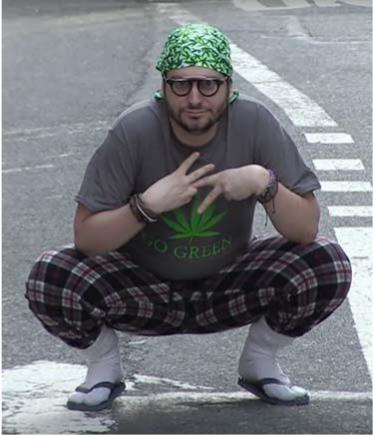 Ethan Edward Klein is 32 and lives in LA, California with his wife, Hila. He is the owner of the h3h3Productions YouTube channel, the h3h3podcast, and the Vape Nation. He is a expert in law when it comes to copy right. He has no children and lives with his wife. He is quite large and he's proud of it, although he is trying to lose some weight. Him and His wife run a mostly reaction channel and are pretty successful. Ethan was born in Ventura, California and studied English Literature at the University of California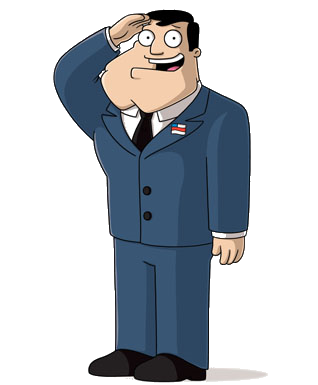 Stan Smith is 42 years old and lives in Langley Falls, Virginia. He is married to his wife, Francine, and has two kids, a alien, and a talking German fish. His kids' names are Hayley, and Steve, the Alien is named Roger, and the fish's name is Klaus. He has been working at the CIA for the past 20 years and is very good at his job. He provides the money for his entire family because both kids still live at home and Francine doesn't work. He wears the same suit and tie to work everyday and puts it all together with a pin of the American Flag. He has many hobbies like woodburning, collecting plates, cleaning guns, making stuffed bears, figure skating, and writing books.